Thu, 01 Jul 2021 12:46:07 +0000Géralde Vincent-BancroftI remember when Andy Murray hired Ivan Lendl as a coach and how everybody was amazed at the swift changes in his serve and in his confidence. It was indeed one of the best moves he could have orchestrated for his career.
We are all used to talk about sport coaches and business coaches in the…
I remember when Andy Murray hired Ivan Lendl as a coach and how everybody was amazed at the swift changes in his serve and in his confidence. It was indeed one of the best moves he could have orchestrated for his career.
We are all used to talk about sport coaches and business coaches in the corporate world or life coaches helping their clients change their habits for better and healthier ones. But when I tell people that I am a foreign language coach all I get are blank stares and a muffled 'what?'.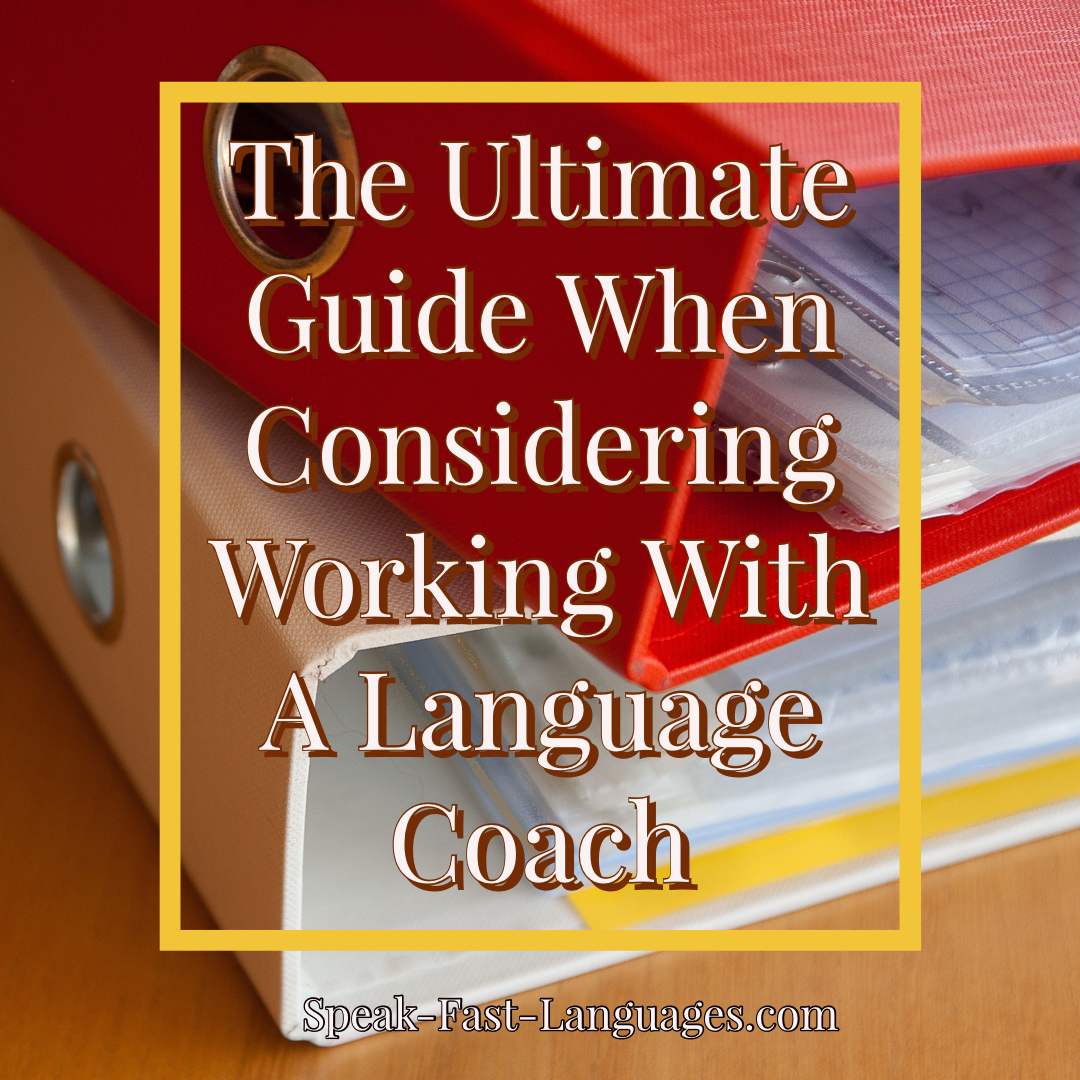 So, what is language coaching?
Language coaching should be considered as a complementary approach in the quest to help language students learn and use a new language. It does not replace language teaching. It does not give solution to specific language problems; A language coach might not even speak the language you are aiming at studying.
A language coach will focus more on the challenges language learners face. He/she will help you nurture your own ability to overcome problems and find novel solutions. You will be able to develop skills that will strengthen you and allow you to become an effective learner.
A language coach will help you cultivate autonomy in your decision-making and champion that you keep absolute control of what you want to study.
The language coach supports the 'clients' goals.
The language coach will work with you in strengthening your mindset and overcome your fears.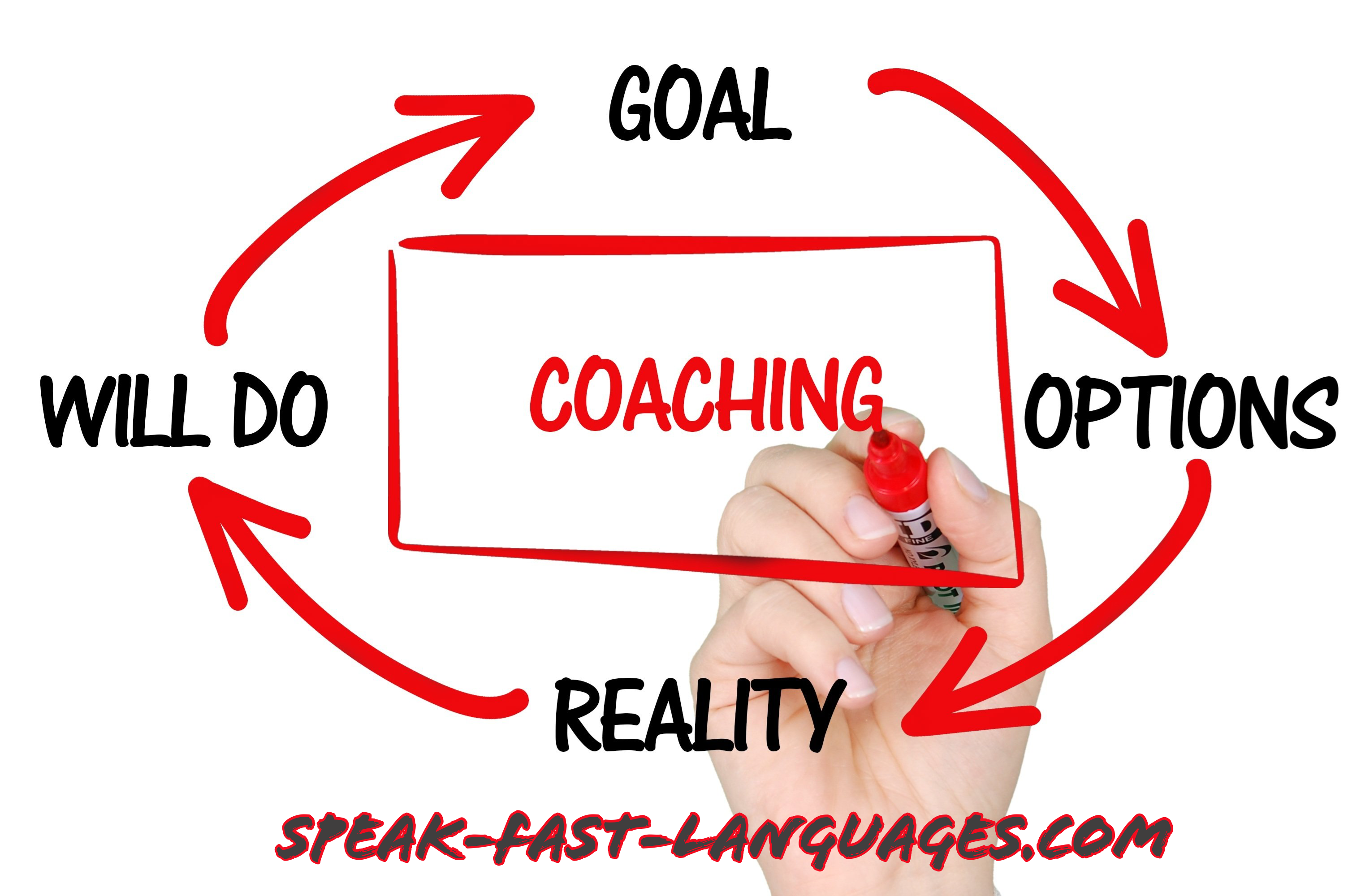 Definition of language coaching.
There are various definitions for language coaching but here is one that I find comprehensive:
"Language coaching is a conversation-based process which purpose is to map and create optimal language acquisition and usage-related goals. The framework is based on strategies utilising intrinsic motivation and developing learning awareness, where both parties (coach and client) are equal partners. It is important that clients claim ownership of their own development".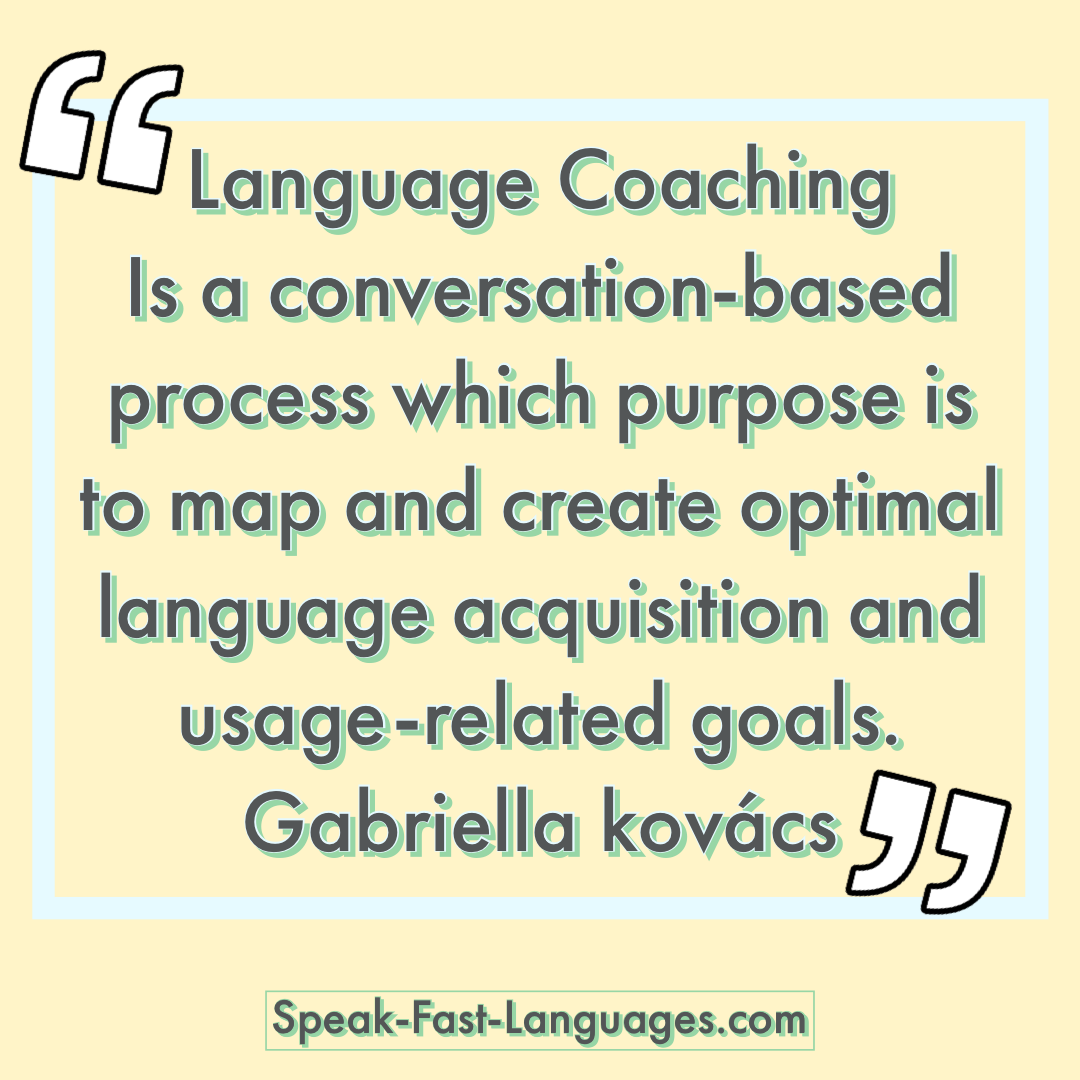 Styles of language coaching.
There are as many styles of language coaching as language coaches, but the framework is usually based on experience- most language coaches speak several languages- and techniques used in various other disciplines like sports, business, cognitive science, positive psychology, neurolinguistic programming which are based in research in neuroscience.
Difference between language coach and language teacher.
Teacher
A language teacher will help you learn specific aspects of the language you want to study. He/she will help you build your speaking, listening, reading, and writing abilities as well as learning grammar structures and vocabulary. He/she will correct your mistakes and he might be a native speaker of your target language.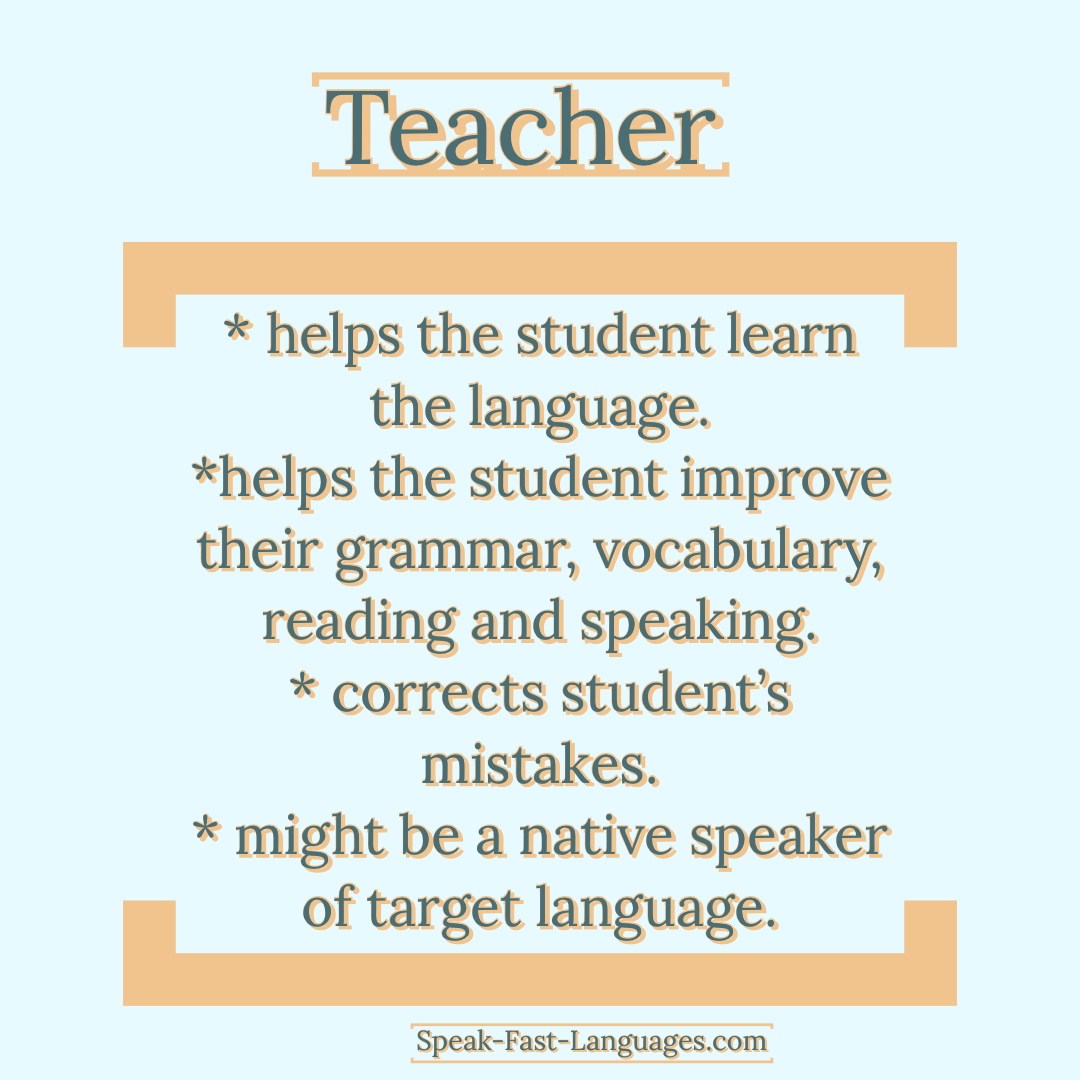 Language Coach
On the other hand, a language coach helps you learn how to learn. He/she is there to assess you in building your study skills and have a positive mindset. He/she does not give you direct solutions to specific language problems but helps you find these solutions when engaging in brainstorming activities. The coach is usually also someone who has learned various languages, so they assist from experience.
In both cases you will only succeed if you take absolute responsibility for your studies.
You may be taking a language course at a college or university and still have a language coach and you will be referred as a 'client' by the coach.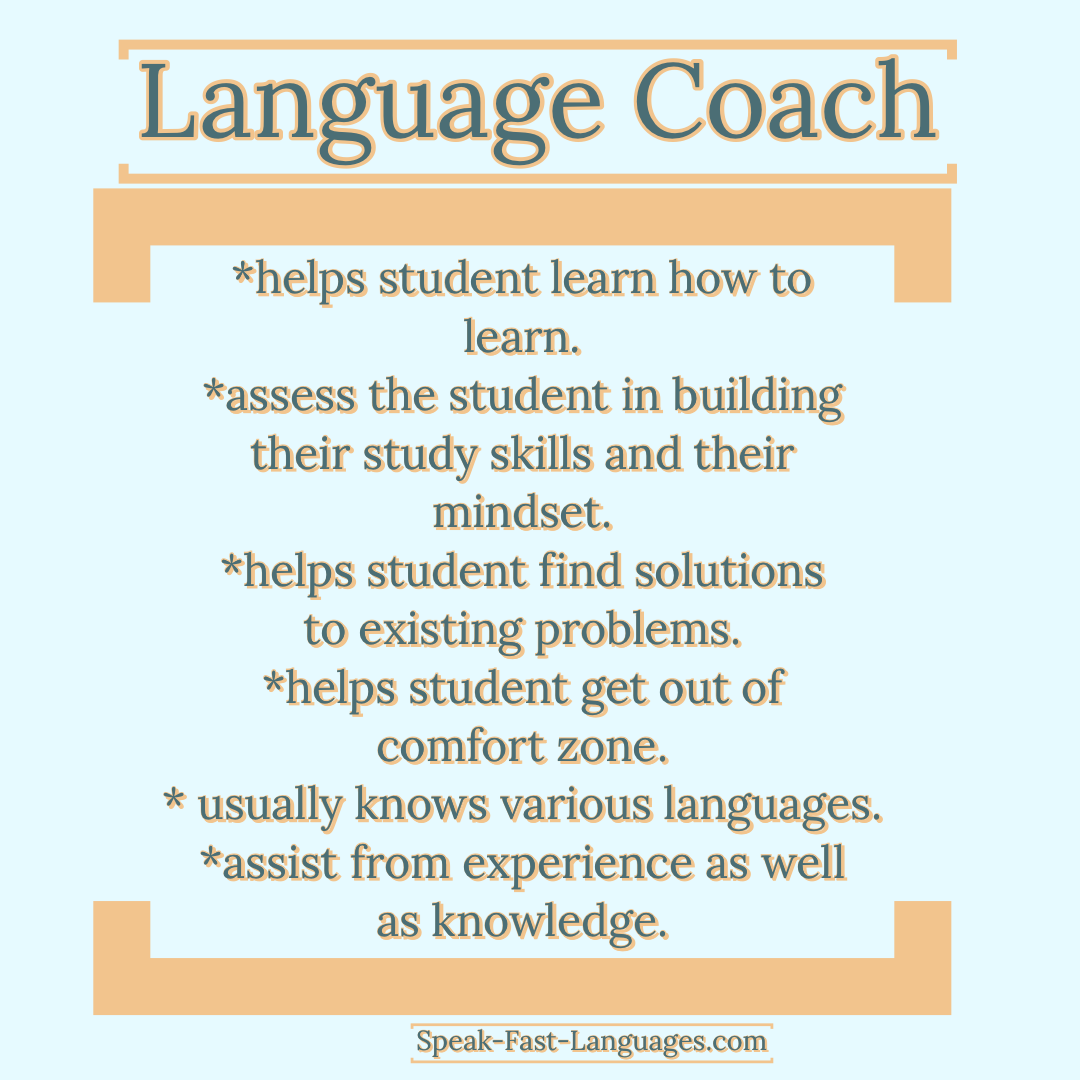 When is a language coach necessary?
Before starting a language course.
In this case it is because you want to create the foundation of your learning. You want to specify your learning goals and explore how you can reach the results you are pursuing. Your aim is to establish your individual learning path, build strategies, analyse the assets that you already have and manage your expectations.
During the learning process.
When you reached a plateau. You feel the need to get passed fears and inhibitions of learning and/or practising the language. Also, when you want to create new goals or simply need to refocus on the learning process.
To increase your performance at a faster rate because of an impending deadline like a meeting with foreign business counterparts or a public speaking event where you must show your competence in the language.
Combined coaching and teaching.
As I mentioned before, language coaching is often used on its own, or as part of a teaching/training framework providing then a premium service for professionals in the corporate world. This is called 'language coaching approach'. It is basically lessons and application of coaching techniques when needed. It gives an extra layer of support and increases the efficacy of the language learning process in this context.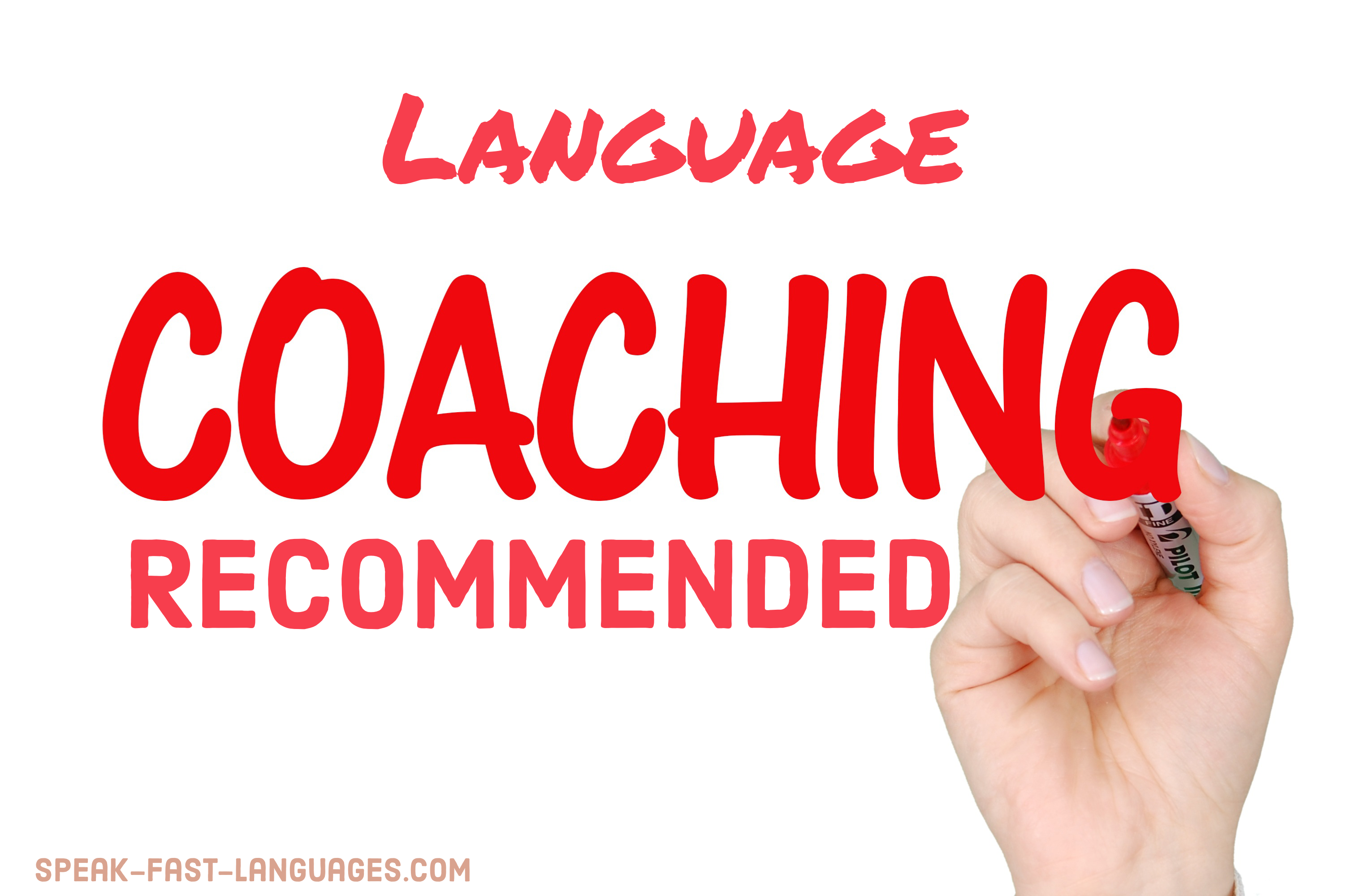 When is language coaching recommended?
Language coaching is recommended in the following circumstances:
Low motivation and self-esteem
Busy professionals with deadlines
Experiencing fear and stress when using the target language
Negative attitude toward learning due to traumatic past experiences.
Unrealistic language goals
When reaching a plateau
Wanting to find better ways to reach goals.
Searching to commit to the process of learning.
Looking for increasing motivation
Needing to improve results massively.
For a particular event
Most clients work with a language coach either because they want to define realistic goals and deadlines (they don't know where to start their language journey), or they need guidance in finding effective ways to succeed at applying these goals and get results (they don't know how to reach their target).
Conclusion
Language teaching and coaching are not exclusive. They complement each other for the benefits of the learner/client.
Language coaching is about the clients reaching their language goals by focusing their time and energy in finding the right solutions so that they can succeed in moving forward in their language journey always keeping a positive mindset and becoming the best language learner and communicator they can be.
I hope that this article has cleared the fog that exist about the function of a language coach.
Click on the link if you need more information about Language Coaching.